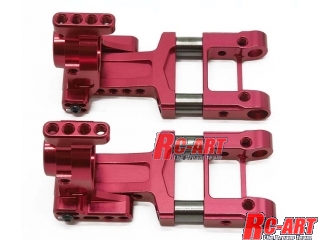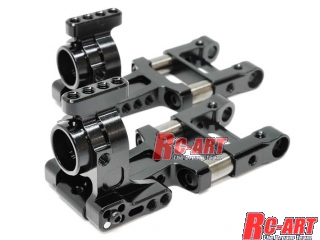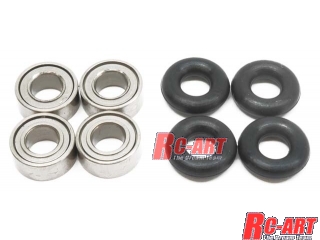 VX suspension system Ver.4 YD (Red)
JAN code:

4571344918833
Item code:

0407-FD
Maker price:

\12,960 JPY
Sale price:

\8,400 JPY
Manufacture:

WRAP-UP
Weight:

50g
Categories:

Rear suspension arm related/YD-2 suspension
The upcoming VX suspension is further upgraded and upgraded.
YD specification for YD-2 universe.

VX suspension system became Ver.4 and upgraded.
This time VX suspension puts a new essence in the arm bearing part.
The 630 bearing and the rubber bush (P3 - O ring) for the bearing part are enclosed. and if the bearing is chosen for the bearing realized the ultra smooth operation released from astringency.
The O ring bearing reminiscent of the rubber bush of the actual car transforms into a supple sticky leg.
Furthermore. by reconsidering the shape of the suspension arm. we have expanded the movable range with respect to the conventional VX suspension and secured a sufficient amount of rebound.
Depending on the amount of color you can adjust the length from short leg to long leg Suspension and normal lever ratio adjustable to 1: 1 lever ratio
A wide range of settings such as knuckle to support is possible.
¢¨ Although the inner diameter of the bearing of the bearing is 3 mm. the general 3 mm suspension shaft may not pass due to tolerance.
We recommend using in conjunction with the simultaneous release adjustment front suspension shaft.