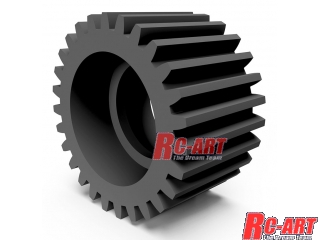 POM high precision machined counter gear 27T for YD-2
JAN code:

4571344920546
Item code:

0573-FD
Maker price:

\972 JPY
Sale price:

\900 JPY
Manufacture:

WRAP-UP
Weight:

20g
Categories:

YD-2 drive relationship
Drive efficiency and wear resistance are dramatically improved! !!

¡ú Overwhelming accuracy unique to carving.
¡ú Made of POM. which has the best wear resistance of all plastics.

POM machined 27T idler gear for YD-2 gearbox.
By replacing it with a standard idler gear (molded product). the drive efficiency is improved. and the strength and wear resistance are greatly improved.
Two for the standard gearbox and one for the RR gearbox.
The black color makes it look great on open bulk chassis.