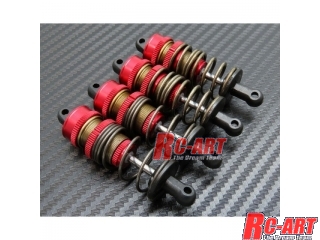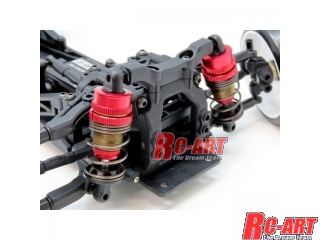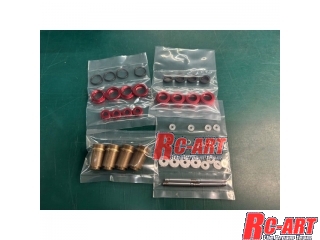 SG Shock 2 for RDX(red/4pcs)
JAN code:

4571344921758
Item code:

0660-FD
Maker price:

\11,340 JPY
Sale price:

\10,500 JPY
Manufacture:

WRAP-UP
Weight:

80g
Categories:

DAMPER SPRING PARTS
[RDX standard shock parts can be used as they are!]
WRAP-UP NEXTs new shock. SG Shock 2 is also available on RDX.
It is a specification to use in combination with RDX kit standard shock cap end. spring cup. shock end.

[Full length adjustable adjustable shock top]
Adopted a full-length shock top with general-purpose ball-end mounting specifications that enhances the flexibility of vehicle height adjustment.
The air chamber is expanded compared to the old version. Install a screw type hole that allows you to select opening and closing of the atmosphere.

[High precision Kashima coated cylinder case]
Kashima coat treatment that provides excellent wear resistance and lubricity.

[Piston for mineral/silicon oil]
0.7mm diameter x 6 hole machined Duracon piston for optimized damping. In addition. 6 pre-drilled holes are provided on the inner circumference so that additional holes can be drilled.

[X-shaped O-ring]
X-shaped O-ring for excellent sealing and smooth operation

[Machined shaft guide (SG shock shaft guide V2)]
Machined POM shaft guide with excellent dimensional accuracy and coefficient of friction.

[SG shock shaft V2]
Compared to the conventional suspension shaft. the length of the shaft is the same. but the length of the threaded part is shortened by 2mm. which increases the stroke by 2mm. The ball end of the short neck can be firmly tightened to the back.
The attached SG shock shaft V2 is designed to give priority to the stroke amount by shortening the threaded part. If you want to match the standard setting of RDX. you can use the shock shaft attached to RDX. Please use properly according to your preference.


* The image is an example of assembly and use. and the shock cap end. spring cup. and shock end are not included.
*The diverted parts can be substituted with reinforced V parts 5mm for Tamiya OP-1871 TRF damper.
* RDX standard piston cannot be used for SG Shock 2.
*This product is a standard cylinder. It is not a big bore specification.