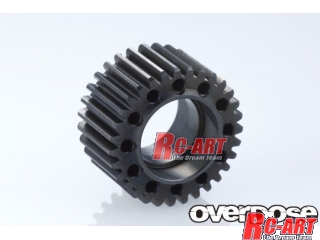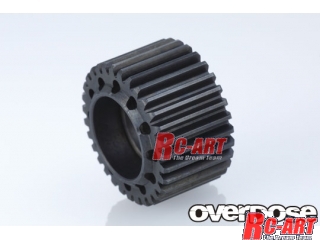 Drilled HD Idler Gear (For GALM / XEX Series)
JAN code:

4571365117420
Item code:

OD2742
Maker price:

\1,944 JPY
Sale price:

\1,880 JPY
Manufacture:

OverDose
Weight:

50g
Categories:

GALM Parts/OverDose
Both strength and response!
HD idler gear has been reborn and is now available! !!

Conventional HD idler gears have high strength and excellent wear resistance. but due to their weight. they sometimes have dissatisfaction with the response. Therefore. the width of the gear is kept to the minimum necessary. and the side surface is drilled to reduce the weight to 9.2g compared to the conventional product of about 11.5g.
This improves throttle response and improves drift controllability and traction performance.
Furthermore. the quenching process has been reviewed to further improve durability.
The use for GALM is limited to the chassis equipped with OD2589.