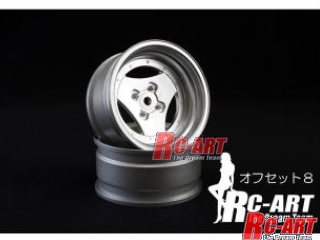 Sharpened sharp offset 8 Silver 2 pieces
JAN code:

4582302460202
Item code:

ART4108S
Maker price:

\950 JPY
Sale price:

\792 JPY
Manufacture:

RC-ART
Weight:

50g
Categories:

Drift Wheel Offset 6-9
Appeared in two sharp points acute!

The first version of the foil series is the foil of memories!
It does not suit any type of car. it was chosen
Individual design only suits your body!
We emphasized performance not only for dressing up a car of love
It is a real type of foil.

· Combining foil and fixing foil of resin tire can be easily done with double-sided tape by making the foil rib into a trapezoidal shape of the flat.
- By stopping with double-sided tape in the center. stable traction can be secured by absorbing vibration with the road surface with resin tire.
· By setting the part of the wheel hub deeper. it is possible to put the foil out to about 2 mm with the use of a wheel spacer or the like.