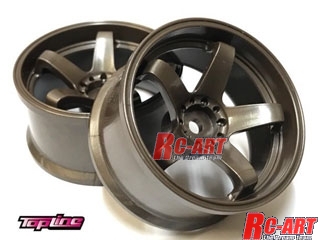 N Model Ver.3 High Traction type offset 7 Mat Bronze 2 pieces
JAN code:

4589434350180
Item code:

TDW-074BR
Maker price:

\1,080 JPY
Sale price:

\700 JPY
Manufacture:

TOP LINE
Weight:

25g
Categories:

Drift Wheel Offset 6-9
Inside taper rim ¡ß soft repulsion material = RWD drift The strongest foil appears! !

In addition to guigui and preceding attractions. greatly improved maneuverability after slipping!
Features are overwhelming traction performance that chooses the road!
Improved grip feeling!
Outflow operability UP!

For RWD we recommend using high traction wheels for both front and rear.
When driving. trying to attach front wheel. standard wheel is recommended when front oversteer (catching feeling) comes.
When the standard wheel is attached to the front. it becomes weak understeer. the vehicle speed increases.
Please combine with the standard N model ver. 3 and high traction wheel. please use as you like.

Please acknowledge beforehand that this product may be more easily deformed due to a crash etc. than the standard product.