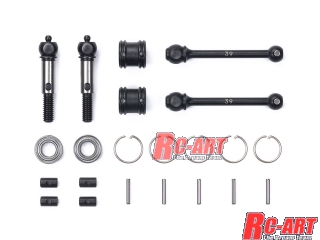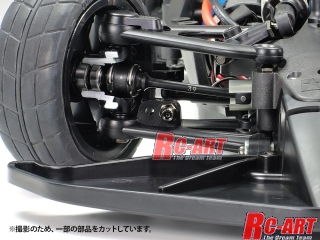 Double cardan drive shaft (39 size. 2)
JAN code:

4950344423729
Item code:

42372
Maker price:

\5,400 JPY
Sale price:

\4,400 JPY
Manufacture:

TAMIYA
Weight:

30g
Categories:

TAMIYA ARM PARTS/TC-01 parts
[Parts that are useful for improving the performance and maintenance of RC cars]
By having two joints. the vibration that occurs when power is applied with the joints at an angle is canceled. and the feeling of ground contact of the suspension is improved.
It is especially effective when using a differential unit such as a direct coupling that does not easily absorb the difference in rotation between the left and right wheels.
All parts are made of highly durable steel cutting.
In addition. the needle pin at the shaft end has been extended to 10.8 mm to greatly improve the durability of the separately sold reinforced swing shaft cap (ITEM54921) that is installed at the same time.
It can be used for vehicles equipped with ITEM54886 and ITEM54083. including TC-01 and TB-05 chassis vehicles.

[Basic specifications]
Set of 2 39 size drive shafts

* When using on the front of the TC-01 chassis. the combination with the TB-04 aluminum differential joint cup for gear differential (LS) (ITEM54543) and reinforced swing shaft cap (2 each for F and R) (ITEM54921) Recommended.