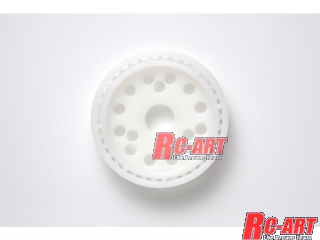 [OP-988]BALL DEAF PULLEY(37T)TRF501X
JAN code:

4950344539888
Item code:

OP-988
Maker price:

\432 JPY
Sale price:

\320 JPY
Manufacture:

TAMIYA
Weight:

9g
Categories:

Pulley and Belt/TA05 OPTION/TA05IFS OPTION/TRF SERIES/TRF501X PARTS
Used in combination with OP.987 TRF501X drive belt (369mm). OP.989 center pulley (18T). and standard one-way front one-way pulley. The 37T ball diff pulley has been molded integrally with the pulley flange by using a slide mold. so there is no risk of the flange falling off. In addition. a mud discharge port is provided on the flange to provide a functional shape suitable for off-road driving. With the 18T center pulley. the maximum transmittable number of teeth has increased the transmittable torque. It is fully compatible with power sources that have evolved rapidly in recent years. and improves belt jumping (tooth skipping).

(ITEM 53988)
[Applicable models / parts]
TRF501X OP.987 Used in combination with TRF501X drive belt (369mm) and OP.989 center pulley (18T).