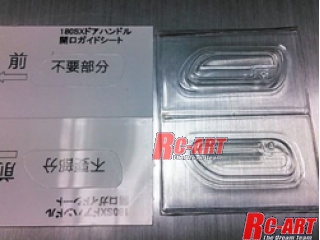 180 door handle
JAN code:

d-craft35
Item code:

YS14
Maker price:

\648 JPY
Sale price:

\640 JPY
Manufacture:

D-CRAFT
Weight:

4g
Categories:

180SX (RPS13)
Yes conventionally can reproduce the door handle that was a compromise with stickers and paint realistic!
You can paint from the back in the same way the body in Rei_0.5 mm thick transparent polystyrene.
After the body painted in ¡» supplied guide sheet. positioning of opening regardless of the previous painting. simplifying the opening.
Yes it can also be diverted to other models and other manufacturers of the body!