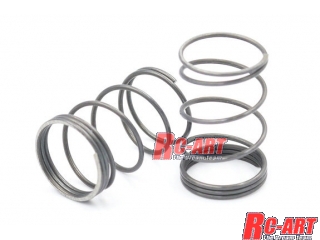 2WS Front spring (2 pieces)
JAN code:

4582586510426
Item code:

RD-006F
Maker price:

\734 JPY
Sale price:

\740 JPY
Manufacture:

ReveD
Weight:

10g
Categories:

Damper & Spring
Rêve D developed with the confidence! 2-way short spring!
By adopting a newly developed winding method. altering the contact structure for the front spring. unprecedented controllability and improved response has been achieved.
Another new feature is by flipping the spring over (reversible use) it can also be tuned to various road surfaces instantly. (for more detailed. please refer to below)
Please try our 2WS front spring that we have been committed to the length. wire diameter and number of turns. as well as the material and quenching temperature.
¢¡If the lower part of the spring is in contact with the spring seat (to create high grip)
The coils are positively induced by setting the wider part of the spring coils upwards. The front grip is always effective from the beginning to the end of the corner. Setting for low grip road surface such as color concrete
¢¡If the contact lines are setup on the shock collar (to lower the grip)
excessive roll is suppressed. we recommend using this setting when the front grip is too much. This is a setting for track surfaces such as asphalt. higher grip P tiles. and carpets.

The total length (natural length) of this spring is 26 mm.
Please note that it may be necessary to adjust the height of the spring cup depending on the machine used and the specifications of the damper.